O
ut of the land of sex resorts, the Dominican Republic, comes yet another pleasure resort, DR Nights. You've seen our reviews on Viking,
review
and Oxygen,
review
, and now it's time for DR Nights.
(mostly single men book DR Nights, but couples go too)
DR Nights is an all-inclusive ocean front resort in Punta Cana,
Gogole Map
, in the Dominican Republic. It's a 5 star resort with a catch - sex is included! You can spend your day golfing, having all the drinks you want and the company of some attractive young lady too, what a trip (literally).
How it works (according to them)
1. Your Adult Vacation Package begins on arrival. We pick you up with two Beautiful Companions , your choice of beverage and Cigar.
2. We Then Rendezvous over to DR Nights Reception area, and kick off your reception party, this is where we will line up 15-30 Girls for you to choose from, each girl will introduce herself and offer a quick lap dance.
(Prices are decent starting out at $995 US for 2 nights)
3. After Reception party we will check you in and your Adult vacation is officially underway; All you can eat and drink 24 hours a day, Live entertainment, 5 A la Carte restaurants, non-motorized water sports, Private Lounge with free wi-fi high speed internet connections (Platinum Suite), top shelf liquor (Platinum Suite), Private Beach w/ butler service, and guess what... the hottest nightclub in town is right at our front door! That's right, we are in the center of it all, as soon as you walk out of resort you are in the center of town, yet we are beachfront.
4. Your next day, you wake up with your companion, get some breakfast at our all you can eat buffet, throw on some sunblock hit the beach, sail the free sailboat around, or maybe snorkel, read a book, whatever floats your boat. 7pm time for your next girl, stroll on over to the reception house, girls are willing and waiting for you, all 15-30 girls are lined up anxiously waiting on your decision. Take your time no rush, mingle, touch and feel all you want no problem here, in fact, they will touch you more than you will touch them.
Rinse and repeat, you got ans many days of this as you can handle!
CLICK BELOW TO VISIT THEM (more pics too)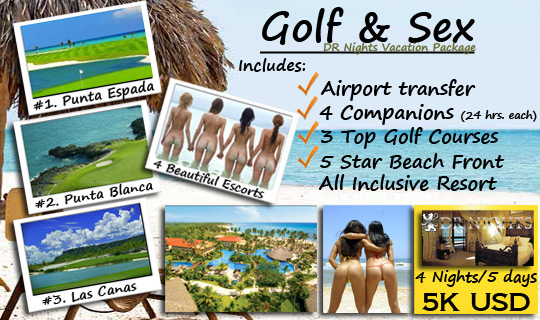 24 hours a Day Female Companionship.
We have a no cash-tipping policy throughout the resort.
There will always be at least 15-30 girls for each guest during your visit, guaranteed.
And that's about it! If you're down for one wicked vacation then DR Nights is your place. The only thing you'll need when you're coming back home is a giant ice pack and about 4 days of solid sleep. :-D
Visit them at
:
DR Nights
.